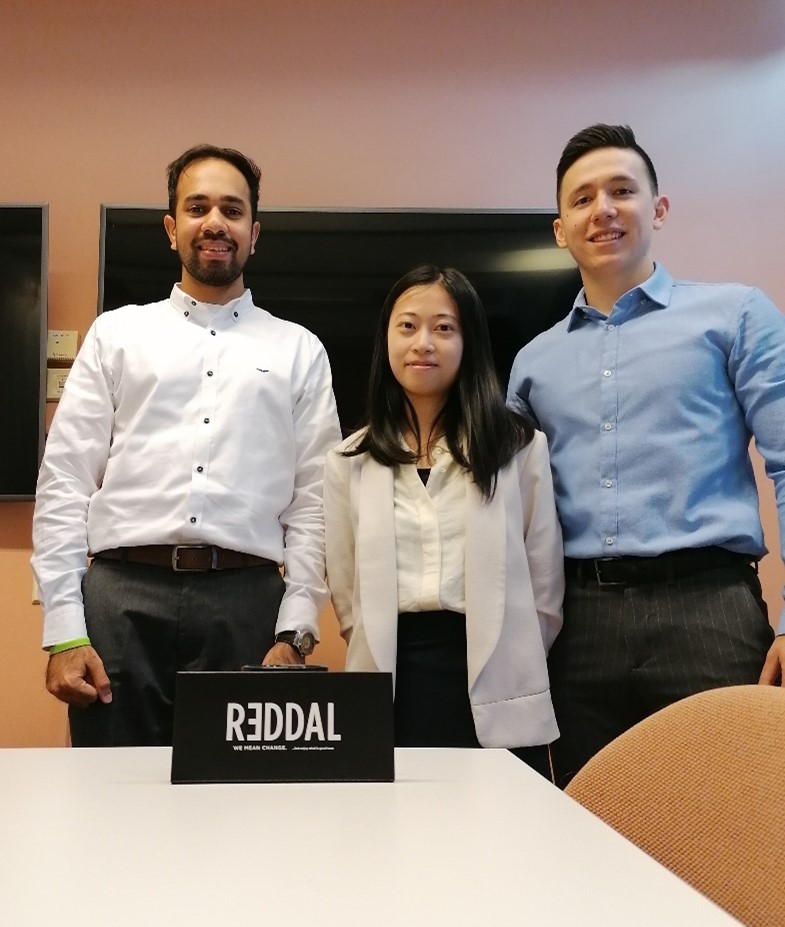 Dec 8, 2021
Xiaojun Wei, Helsinki
Making the most of an internship - learning about workplace, industry, and yourself
Regular reflection and documentation of learnings is the key to continuous development cycle
Four months at Reddal went by in a blink, and I can say that the internship experience has been extremely rewarding. One key learning I gained along the way is to reflect upon and document the learnings about task completion and career planning regularly, ideally every week. My approach was to have a file called "Key Learnings at Reddal" to weekly document my take-aways and feedbacks given by colleagues, and during the first two weeks, I actually did this nearly every day. I believe this practice is helpful for everyone in working life, but especially for the interns whose learning curve is often quite steep. In a nutshell, this method collects best practices and forces one to reflect on mistakes, thus reducing the chance of falling into the same old traps and enabling growth to the next level.
One of the learnings I wrote down is to always make your work easy for others to understand, either in terms of formatting or marking assumptions in modeling, in case of potential take-over or later projects utilizing your outcomes. This learning is crucial especially for students or fresh graduates, as we are often used to individual work at school and tend to be not so clear at presenting our thought process to others. Making it clear the first time saves a lot of effort for you and your colleagues running around for clarification.
University studies can be a bit detached from working life – an internship can help you in making new connections and get sparring on career progress
Remember that an internship is not just about task completion, it is also a valuable opportunity to test run your career choice. I have seized the chance to consult my engagement manager about career planning – we discussed experiences of consulting and business development work and the best practices in choosing a suitable career path. It does not have to be a formal session – a casual conversation can already bring many insights. If the atmosphere and cultural values are similar to Reddal, kind and open with a sense of togetherness, you will quickly notice that your colleagues are genuinely interested in sparring with each other, rather than competing on performance and promotions.
Challenge yourself and take proactive approach from early on, but boldly ask for guidance too – supporting each other and working as a close team drives us Reddalians for excellence
What amazed me the most at Reddal was the sense of togetherness – as an intern, I was already highly involved in client engagements and trusted with important responsibilities, which might not be the reality everywhere. The communication was seamless; there were hectic times and plenty of problems to solve, which I did not readily have expertise on, but I never felt alone. Instead, I was always encouraged by my colleagues with the phrase: "Try it first, and if you have difficulties, we can take a look together."
Supportiveness and kindness are values that should be applied to the attitudes and actions of all career levels, contributing to a fruitful learning experience for all. I hope you, readers, have already or will come across these as early as at the internship stage to ease further career development and unlock different perspectives on thriving for long-term success at an individual, team, and company level.
All in all, I have experienced both good times and challenging moments at Reddal, and I am very grateful for all the people standing alongside me. Working for a company where kindness and supportiveness thrive but learning ambitions and mutual trust are set high from the start has ticked my boxes for a successful internship journey.